It's been a long time coming… so here it is — my new home office! It took me a few months to get everything furnished, but my office was one of my first priorities when moving into this new house. It's finally finished and I truly love spending time in this space.
I'm excited to walk you through all the different areas that make my home office the feel-good space I want to be in. Overall, I wanted my office to feel cozy, but also open, bright, creative, and organic. Those are the words that came to mind when I was designing the space and furnishing it. That's why when putting this space together, I was super intentional about the pieces that would really bring it together.
As a full time creator and entrepreneur, I'm in my office every single day, often for long stretches of time. This space lets my creative juices flow, keeps my mind on track and also allows me to plug in and zone out. Check out my video (and all the links below) for more on the areas of my office, the brands and products I selected, and all the other little details.
So let's get into it!
Office Doors
Custom Doors by Raydoor- this was something I really wanted in my new space to separate my office from the kitchen. Though it was an investment, it was a worthwhile one! We hired a contractor to install them, and we went with a high-quality, durable acrylic since it was much lighter than glas. I wanted something that was easy to install or easy to take down in the future. They aren't super soundproof but allow for a lot of light to come through — essentially I wanted an artful room divider, and these did exactly that! I wouldn't change a thing.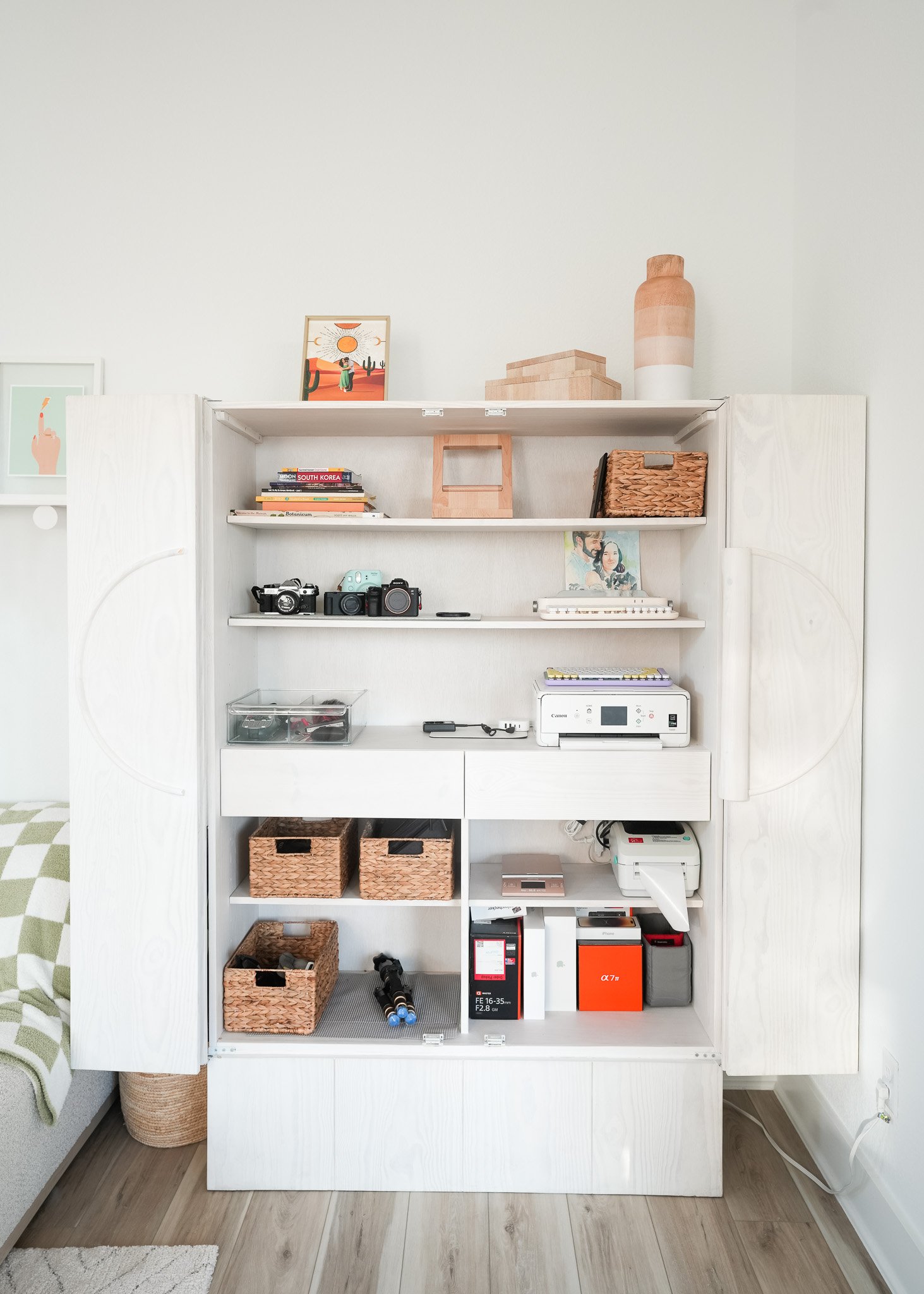 Storage Cabinet - I wanted something that was chic and functional. I like that there are shelves and drawers to organize what I need in this cabinet… however, the actual functionality of the doors isn't great and overall it's not very high quality. It arrived damaged, and it keeps getting worse. Because of that, I don't recommend this cabinet for others to purchase! Check out the video to hear more of my thoughts on it.

iPad Stand - a gift from the Ergonofis team!

Vlog Camera

Sony A7IV - this is the camera I use to shoot more of my YouTube videos when I'm at home.

Labelmaker - This is needed when you own a small biz! Shameless plug for y'all to check out The Homebodies for cozy products that make you feel at home (online n' offline) if you haven't yet!

Bag - I use this bag when I go to a coffee shop to cowork or when I travel. I love it! I have it in the color Cappuccino.
Lounge Area (my fav!)
This lounge area is truly my favorite part of the office! Whenever I come in here, it feels like an exhale. It really is quite whimsical yet calming with its fun pops of color that bring a spark of brightness and life. It's like a little oasis in the middle of the office, and it just makes me feel so good! I feel energized and ready to tackle anything after spending some time in this colorful lounge area.
Couch - This couch is the perfect size and the material is plush and soft. It has flecks of gray in the fabric, which helps to hide dog hair – a great benefit for my home! I love taking breaks here, drinking my matcha, journaling on my iPad, or anything else. It's the perfect spot to relax and retreat when I need it. My friends also enjoy sitting here when they come over, and they can work here too.

Blanket - cozy and aesthetic, of course.

Shelf 1, Shelf 2 - I got these shelves three or four years ago and still love them.

Art - I love these prints from an Austin, Texas-based artist, Rhianna Marie Chan! Check out her instagram page for more @rhiannamariechan.

Mirror - This mirror was a random find on google! I was searching organic shaped mirrors and I found this one, which fits the space well.

Pouf

Meditation pillow

Coffee table - Urban Outfitters several years ago… looks like they don't carry it anymore.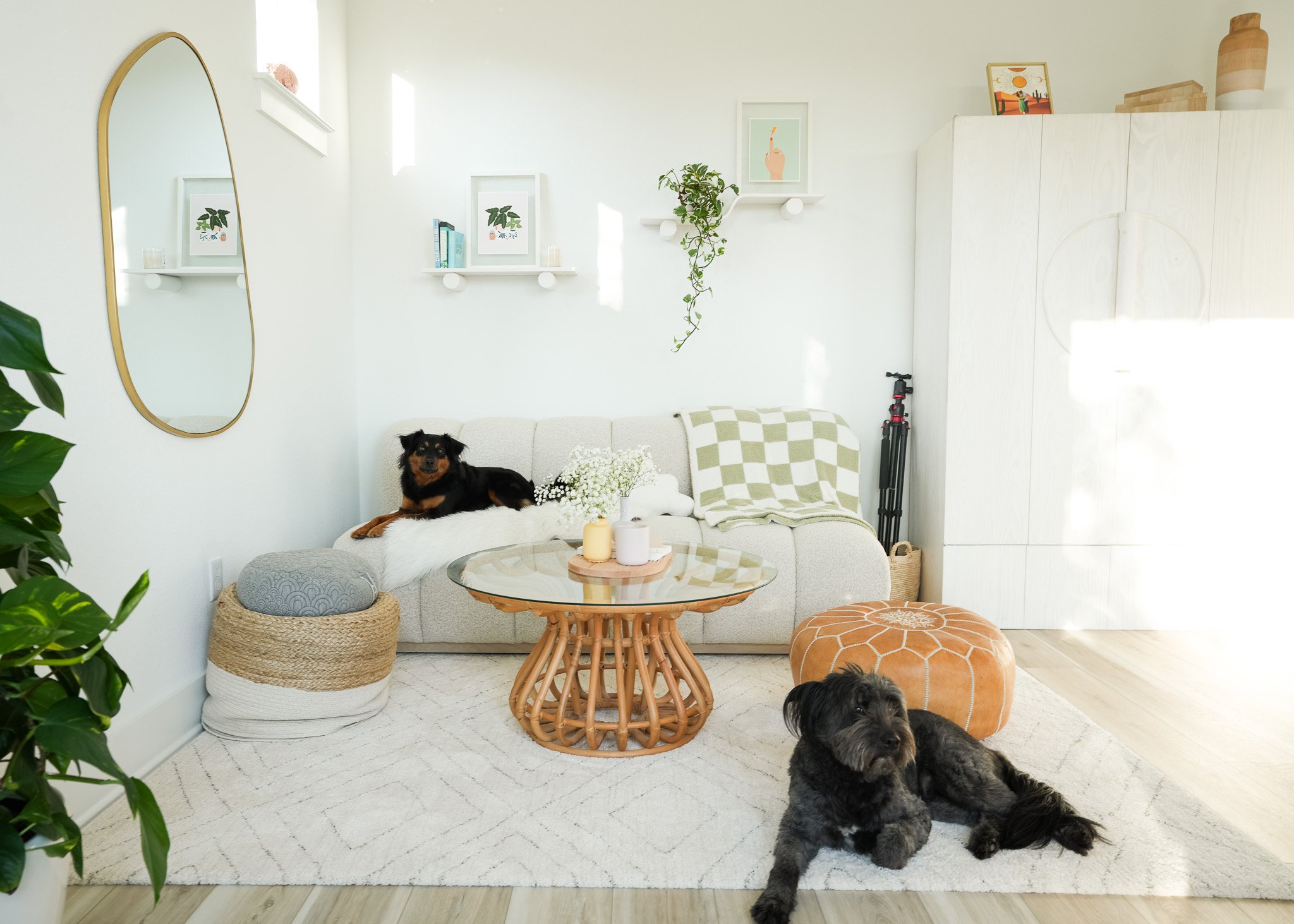 Desk setup
The heart of the office is my desk space — the is where I spend most of my time! It's a great place to focus, and I can easily switch between sitting and standing. That's why I chose a standing desk and added the viral under-the-desk treadmill as seen on TikTok. Let's talk about it…
I love my ergonomic chair & standing desk so much — it's quite literally the desk of my dreams! I knew I wanted a really long desk, so I went with the 72 inches option. I wanted it to be collaborative, so my friends and assistant can come over, pull up a chair and work at the same desk as me.
The desk is made of SOLID wood (!!) and I choose it in Maple, although I debated on getting it in Cherrywood, which is also stunning.
One of the best features of this desk is its cable management system. It was a non-negotiable for me and it is such a big improvement from my last desk. The filing cabinet and desk riser are also from Ergonofis, and I was generously gifted these two by the team.
Overall, this desk is an investment, but one that I figured was worthwhile since I work from home and do all of my work right here. I did purchase this desk myself, and this isn't sponsored! If you'd like to see more, I have a video of me setting up my desk and figuring out where I wanted it within this space — here's a video of me setting up my desk and figuring out where I wanted it within this space.
I'm so happy with my purchase and the look of my desk. It's practical, beautiful, and the perfect workspace for me!
More links from my desk setup
Headphones

Headphone Stand

Chair

Desktop Monitor

Webcam

Microphone

Mouse

Keyboard

iPad Stand

Under Desk Treadmill

Desk Mat - My friend Maisy just launched this new brand CozyLeighStudios featuring beautiful hand-cut, hand-made desk mats! Check out their site for more desk setup accessories to come!
Office Drawers
People are often surprised when I tell them that my desk drawers are from Ikea! These are from the Besta System and I actually worked with one of the employees a few years ago to take the pieces from the store and put this together since it doesn't come as a default item.
To upgrade the drawers, I added drawer pulls from Rejuvenation (linked similar ones, since the others are sold out). I actually do this a lot — adding nice hardware is a good hack to elevate something from say Target or Ikea!
Besides being a good storage area, it's also my plant corner! I get so much natural light in my office and it makes my heart so happy to see my plants thriving in the sunshine.
That's a wrap!
Thanks for touring my home office! It's such a special place to me, and I am filled with lotsaaa gratitude that I am lucky enough to have this as my office. Every morning I look forward to stepping through the door, knowing that I can put my creative energy into all of the projects that I am working on. It's a place where I can really concentrate, feel good, and focus.
Not seeing a link to something? Chances are it might be tagged in my Amazon Storefront. Check out those links below.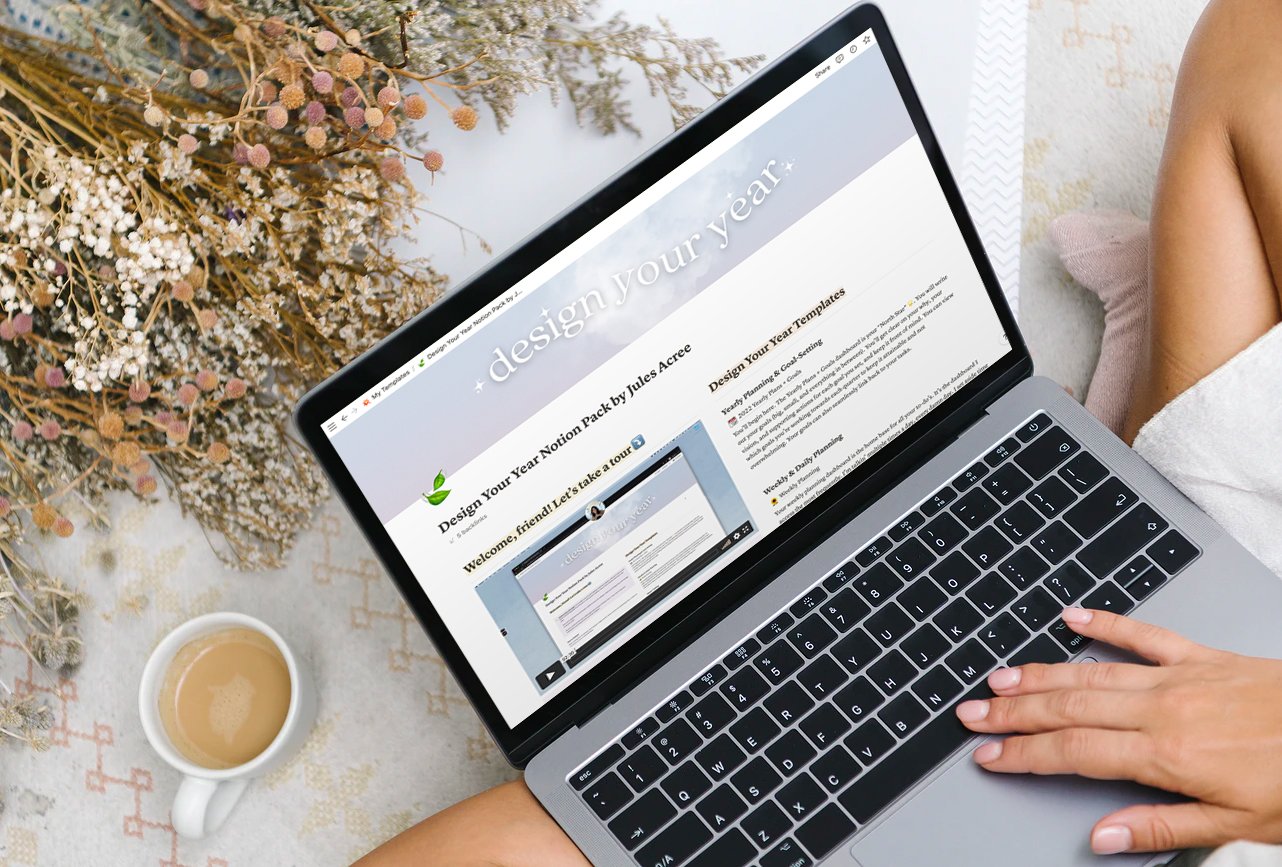 ft. Design Your Year Notion Pack
Interested getting my exact Weekly & Yearly Planning system (& more)?
The Design Your Year Notion Pack was designed to help you dream, plan, create, and take action on your ideas in a digital n' dynamic platform that changes and grows with you.
From setting smarter goals, defining clear supporting actions, and tracking your progress, you'll have an intuitive, dynamic system to keep your most valued tasks front of mind.
Learn more.